I'm convinced the social media "story" feature was created to take pictures of food. It's so we can share what we're eating in the moment without having to delete hundreds of food pics later. There's something to be said about photographing a thoughtfully plated dish. My husband and I have gotten into arguments over him picking food off my plate before I've captured the perfect shot. He should know better by now.
Pictures of food can make us hungry, make our mouths water, and of course make us crave what we see. The Secrets of Skinny Cooking cookbook knows this. They include breathtaking photos for every recipe. There are over 135 of them, in case you're wondering. This cookbook isn't just functional, it's a literal work of art.
The photos make me want to try everything despite being generally lazy about cooking. I understand the value of home cooked meals, but too much time prepping food will leave me opting for take out. Give me something simple and I'm there! Luckily for me, flipping through the book reveals the recipes are easy to prepare with the majority requiring 5 steps or less.
Some delicious recipes in the book include:
Apple Pie Crepes
French Toast Eggs-in-a-Hole
Crispy Eggplant Wontons with Two Dipping Sauces
Maple & Cinnamon Butternut Squash Soup
Hoisin-Glazed Sea Bass and Mushrooms
Skinny Pasta Alfredo
Spinach Stuffed Chicken Thighs
Zucchini Pizza Fries
Crème Brulee
Best selling cookbook author Victora Dwek and successful nutritionist Shani Taub (read more about the authors here) have joined forces to bring you these mouthwatering, low-calorie meals. The Secrets of Skinny Cooking includes secret tips and techniques for making your favorite foods lighter. It also contains plenty of gluten-free, sugar-free, low-carb, Whole30, and Paleo options.
I'll give you some time to figure out if you want this in your kitchen. I'll be in mine preparing some low-calorie crème brûlée.
If you'd like to try the baked potatoes mentioned in my video, you can find the recipe below.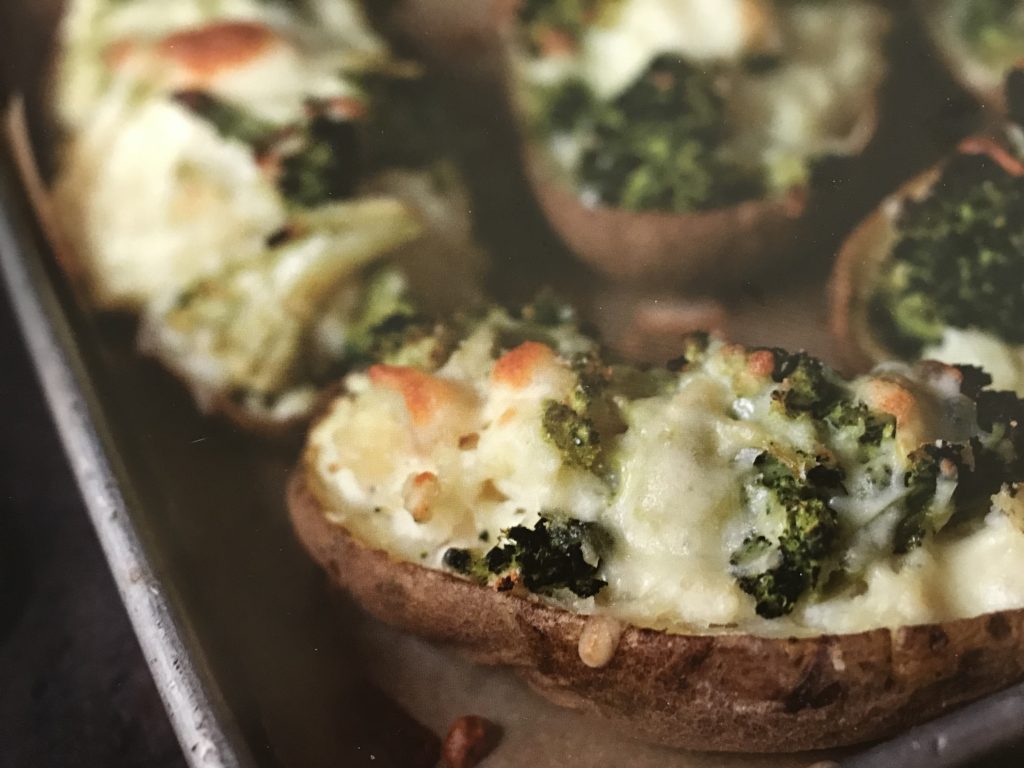 Jumbo Broccoli Baked Potatoes
From Secrets of Skinny Cooking: Mouthwatering Recipes You Won't Believe Are Low Calorie
Author: Victoria Dwek and Shani Taub
Publisher: Mesorah Publications, Ltd
Yields 6 as a main; 12 as a side
Dairy – Gluten-Free
200 Calories per whole potato (2 halves)
Ingredients:
6 (6-oz) Idaho potatoes
1 (24-oz) bag chopped frozen broccoli, thawed
2 tsp salt, divided
1 (5.3 or 6-oz) container plain Greek yogurt
1/4 cup low-fat milk
1 1/2 oz shredded mozzarella cheese
Instructions:
1. Preheat oven to 400°F. Place potatoes onto baking sheet or in a baking pan. Coat with nonstick cooking spray; bake for 1 hour. Let cool.
2. Meanwhile, line a baking sheet with foil; coat with nonstick cooking spray. Toss broccoli with 1 teaspoon salt; spread in a single layer on prepared baking sheet. Bake for 20 minutes.
3. When potatoes are cool enough to handle, slice in half and scoop out the flesh, leaving a thin layer. Return potatoes skins to the oven for 10 minutes to crisp.
4. Using a fork, mash potato flesh until smooth. Add yogurt, milk, remaining 1 teaspoon of salt, and roasted broccoli; mix to combine. Return mixture to potato skins; top with cheese. Return to oven until cheese is melted and golden on top, about 15 minutes. You can broil the potatoes at this point if you like them really brown and crispy.
Interested in trying some more yummy, low calories recipes? Pick up Secrets of Skinny Cooking on Amazon.
---
This book was provided to me by the publisher in exchange for an honest review. This post contains an affiliate link. You can read more about my official disclosure policy here.